Masonry cavity wall insulation
Masonry cavity walls are the most commonly used form of wall construction in the UK. Originally designed to resist the risk of rain penetration, the cavities themselves weren't insulated and therefore delivered minimal thermal performance.
Today, the installation of insulation in cavity walls is standard procedure and a cost-effective means of delivering excellent thermal performance. Indeed, while Building Regulations now focus on the efficiency of a building as a whole, the insulation used in a cavity wall has a major bearing on the overall energy efficiency of a property.
Three different methods are generally used for insulating masonry cavity walls:
Full fill: built-in
Using cavity slabs; delivers the best U-value to wall width ratio and the lowest cost option.
Full fill: injected
Blown-in insulation; suitable for new-build or existing cavities
Partial fill
Using cavity slabs; maintains a minimum 25 mm clear cavity; low cost option but has a reduced thermal performance
The U-value of a particular cavity wall, calculated using BS EN ISO 6946, will be determined by a number of factors including the construction of the wall, the insulation thickness and the material specified. The properties of different mineral wool insulation products mean a wide range of U-values can be achieved, and performance tailored to the specific needs of a particular building.
The use of the appropriate glass wool product, together with correct installation, will also ensure that:
Liquid water is not transmitted to the inner leaf
Risk of condensation is negligible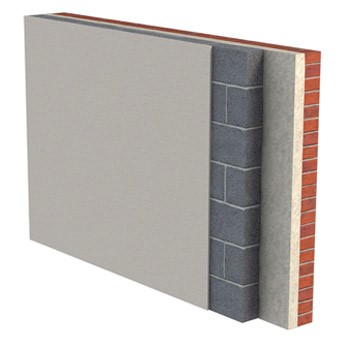 The Benefits of Mineral Wool
Value for money - more cost effective than any other material available
Thermal performance - compression fit minimizes gaps at joints (slabs) or removes joints completely (blown)
Acoustic performance - excellent sound absorption and reduced flanking noise through the cavity (full fill only)
Environmental - uses recycled material, zero ODP & GWP, BRE Green Guide A+ to B
Fire properties - non-combustible and A1/A2 Euroclass fire rated
Easy-to-fit - simple installation process
Versatility of form - batt or blown to suit any specifc project