Masonry solid wall insulation
Masonry solid walls are most commonly found on homes built before 1920; after this, cavity walls become the preferred method of construction. Solid walls offer poor thermal performance, an uninsulated solid wall can lose as much as twice the heat lost by an uninsulated cavity wall, but effective insulation solutions are available. 
These fall into two categories:
Internal Wall Insulation (IWI) systems
Generally the more economical alternative for upgrading existing solid masonry walls, the IWI method, as its name suggests, involves the installation of insulation on the interior walls of a property. A stud wall will first be installed and this is then filled with mineral wool insulation in either roll or slab form before a vapour check plasterboard is applied to complete the finish.
External Wall Insulation (EWI) systems
This method is used in combination with a variety of render or cladding solutions (e.g. shingles, rainscreen cladding, tiles). While usually being employed on refurbishment projects, EWI can also be used on new-build. In most cases, the mineral wool is friction fitted between studs installed on the outside of the building, then fixed as necessary when the cladding or render is applied.
Both systems provide a high level of thermal performance, helping to maintain more stable temperatures; warmer in winter and cooler (through reduced solar gains) in summer.
While Building Regulations now focus on the efficiency of a building as a whole, the insulation used on a solid wall has a major bearing on the overall energy efficiency of a property.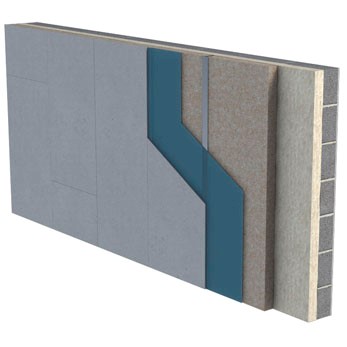 The U-value of a particular wall, calculated using BS EN ISO 6946, will be determined by a number of factors including the construction of the wall, the insulation thickness and the material specified. The properties of different mineral wool insulation products mean a wide range of U-values can be achieved, and performance tailored to the specific needs of a particular building.
The benefits of Mineral Wool
Value for money - more cost effective than any other material available
Thermal performance - compression fit minimizes gaps at joints
Acoustic performance - excellent sound absorption
Environmental - uses recycled material, zero ODP & GWP, BRE Green Guide A+ to B
Fire properties - non-combustible and A1/A2 Euroclass fire rated